THOSE WHO WANT TO VISIT ABHA,HERE A TRAVEL GUIDE FOR YOU. ❤️
✈️ Transport:
Via private car/bus: 10-13hrs
Via plane: 2hrs +/-
PLACES VISITED:
🏔 Al Habala Village
-40mins from Abha city center
-best to visit early in the morning when the clouds are still suspended below the cliff and you'll get that sea of clouds view
🏔 Al Souda Moundatin
-best to visit on either sunrise/sunset
-this mountain has multiple parks/spots, its up to you on where you want to stop and chill or take photos
-Baboons (monkeys) are all around the area, even along the roads! If you want them to come closer, go give them something. 😉
-sea of clouds depend on the weather, if youre nice like me, they might show up 😉
•🚠 Al Souda Cable Car
-we checked the place but there were a lot of people (Eid holidays) so we opt to cancel this on our itinerary.
-Operating times: 1000-1400
-There are other 2 cable cars (Green Mountain-closed and Habala)
🛖Rijal Almaa Village
-1-2hrs depending on your driving skills and stops / photo ops 😂
-this is one of the must visits, not only for the village itself but also because of the journey going there!
-make sure to get a good car with a good driver because the roads are really steep, very steep and at times get covered with fog.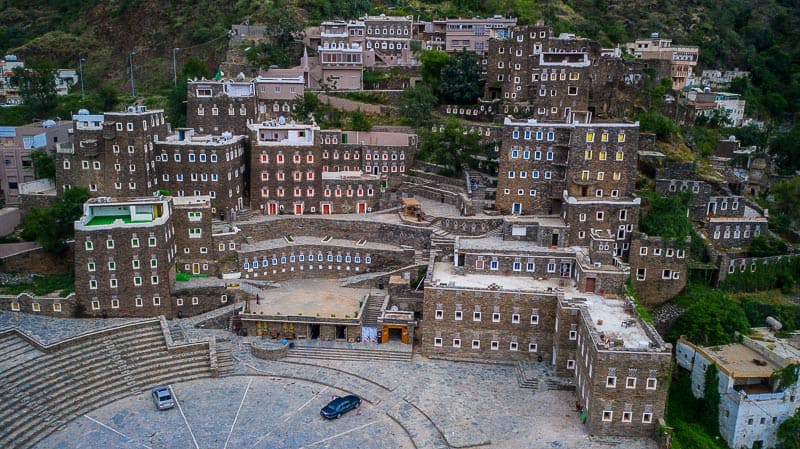 🌳 ABHA CITY:
✅ High City- most of the high end cafes/restos are here, also, it has a view deck that if youre lucky enough, you'll get a glimpse of the sea of clouds. 😉
✅ Abu Kheyal Park- has a nice view of Abha City; more of a family hangout place.
✅Art Street- a street of art. Char. 😂 Heres where the Jacaranda trees are planted! If you want to see those purple trees, this is the place to be! But make sure theyre in bloom when you visit. If not, it's a beautiful street with cafes around. And don't forget to buy flower crowns! Look for Amjad and buy from her! (See our photo) Best visited on the afternoon til night. 😍
✅Souq Al Thulatha- first of all, i love this souq. Here you can find loads of pasalubong stuff. Traditional clothes, spices, honey, souvenirs are all here. You'll feel more of Asir culture. ❤️
✅The Fog Walkway- it's like corniche/boulevard, but on the mountain edge. There are restaurants and is best visited early morning or sunset.
⚠️Things to note/consider:
❗️Go and talk to the locals, you'll learn a lot from their beautiful culture and you'll make a friend! People are generally nice here! ❤️
❗️Abha lies on a range of mountains so the WEATHER IS UNPREDICTABLE. Make sure you clothe up for the right weather!
❗️NOT MUCH TAXI/UBER- this was one of our struggles here specially at night when city is so busy. If you have a car/license, you better drive.
❗️Phone signals are unavailable on some roads if youre visiting places outside the city.
❗️Bring your camera, i know phones come in handy but, cmon, cameras are cameras for a reason. 😉
Travel Guide with easy location
Links
14. Cloud Cornish:
15. Art street
16. Al Habala
Happy trip everyone! ❤️